Your dream kitchen or bathroom is finally within reach!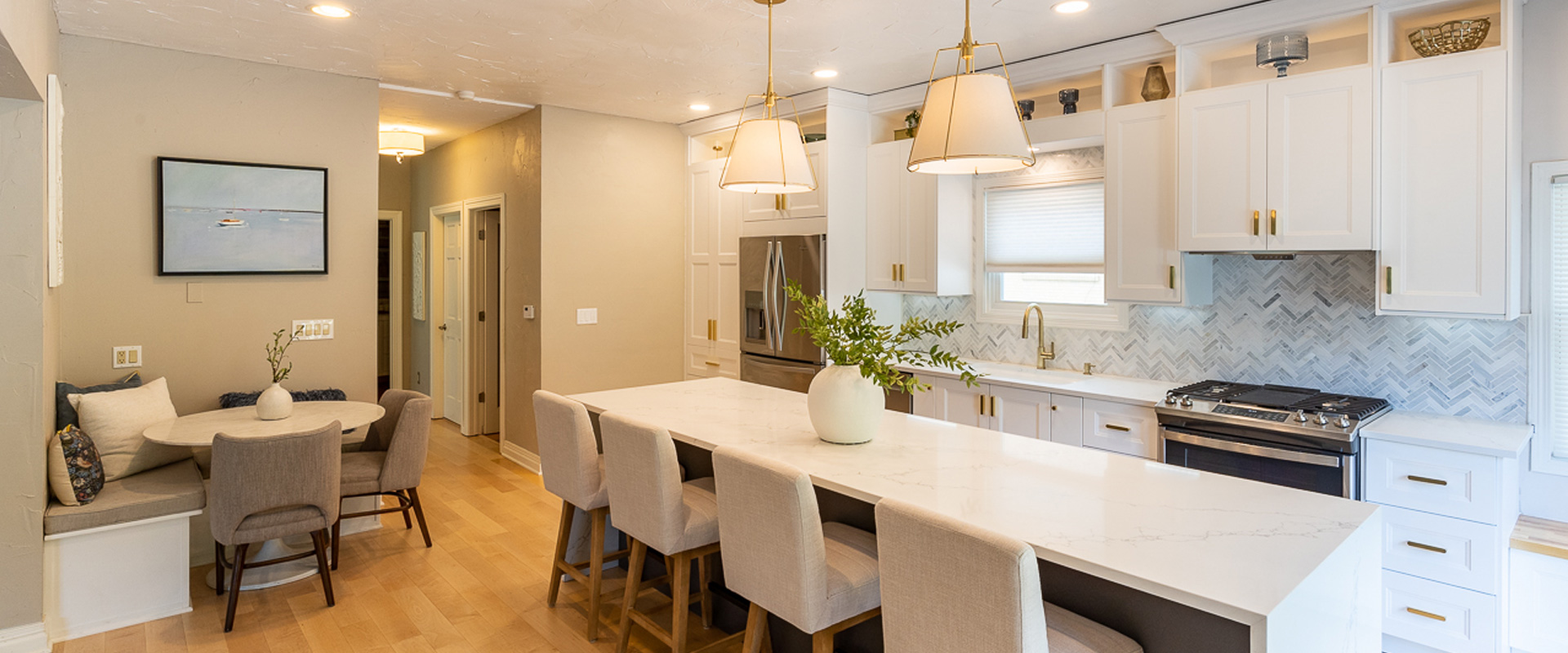 Kitchen & bath remodel services
Is your space cluttered? Outdated? Old-fashioned? Not quite your personal style? Contact us for in-person/on-site consultation with one of our experienced, award-winning designers.
Kitchen Design & Remodel
Our team is ready to work with YOU to turn your existing kitchen into your dream workspace.
Bath Design & Remodel
Bathrooms are used by each and everyone of us. . . why not turn your space into something you actually enjoy spending time in?
At RW Shaw Construction Services, we work with you to develop the space you want, with the style you desire.
In-Home Measure
Our process begins with an in-home consultation and measurement; both are a complimentary service that our designers provide. The space is measured, photographed, and the designer will review your personal ideas and how you want your future space.
Design your Dream
The designer brings your ideas back to our office and will begin the design process using various software programs. Your consultant will arrange a follow-up meeting in our showroom for the initial design presentation. Images of your space, including cabinet selections, colors, flooring, and appliances will be shown. A detailed estimate of costs will be provided during this sit-down.
Shop around & Get the products
We will provide a list of resources and items that will need to be purchased. RW Shaw Construction Services uses a variety of "big-box" options including IKEA, Home Depot, Menards, and Lowes. We also have two in-house lines of cabinets as an additional option.
Installed in a week
Once all your materials have been ordered and received, our team will work with you to plan the best time that works in your schedule to complete the cabinet installation.
Ready to get started With your new project?
Let's start with an in-home measure for $79. Pay online, Schedule online. It's just that easy!

We are so pleased with our new kitchen! From the initial measuring to the final cabinet filler piece -- RW SHAW did a great job for us. We were especially impressed with carpenter Eirk's work. He did the customization we wanted and it looks fantastic. He paid attention to every detail and didn't stop until he (and we) were happy. With COVID impacting IKEA's supply lines we faced a lot of obstacles. Erik was patient and willing to find solutions to every problem that arose. Finding a reliable craftsperson who does excellent work is rare -- Erik is that person. Thank you for making our kitchen dreams a reality! Highly recommend!!
J Hasker
(Google Review)

Mike is the Man!  Mike Ketterman that is. He installed our entire IKEA kitchen complete with end pieces (doors used on end of upper and lower cabinets to give custom detail). Worked with an existing cabinet above the frig and created some filler pieces to square off existing and new cabinets. Under cabinet lights, lights inside glass front cabinets. Managed an empty cabinet to fit our microwave to give the "built in" microwave look. Mike arrived on time, worked every second and completed all in time discussed and pleasant to be around. Just terrific!
Suzie S. 
(Lake Forest)

I had Ikea cabinets, sink, and lighting installed by RW Shaw, and what a great experience! My place was built in the 1930's so this work included a fair amount of plumbing and electrical work. Everyone who worked here was prompt, professional, highly skilled, and very friendly. Each person went above and beyond to complete the work. I was included in the decision-making as the project progressed. Janet in the office was also very helpful, sourcing product that was not delivered by Ikea (made difficult due to Ikea's covid closure).
I highly recommend RW Shaw, and look forward to working with them again on future projects!
Deb B.
(Google Review)

Shaw construction was easy to work with from the initial quote process to installation and billing. The crew was professional and friendly. While we added work to the original contract, everyone was receptive to our changes and followed through for us. All work was completed in a timely matter and all debris was cleaned up. I would wholeheartedly recommend Shaw to anyone!
Jim I.
(Google Review)
Satisfaction Guarantee
If at any time you have a concern or question regarding your remodeled space, give us a call or an email. We will do our absolute best to resolve the issue.
A One-Stop Shop
Our team provides a variety of services including demo of the existing space, removal debris, rough electrical/plumbing, custom carpentry, cabinets and installation, flooring, countertops, and backsplashes. Allow us to whip your space into shape!
Free Consultation
We would be happy to schedule an appointment that works in your time frame to review the space and provide an in-house consultation.
Please contact us at any time with questions regarding an upcoming remodeling project. We look forward to working with you!